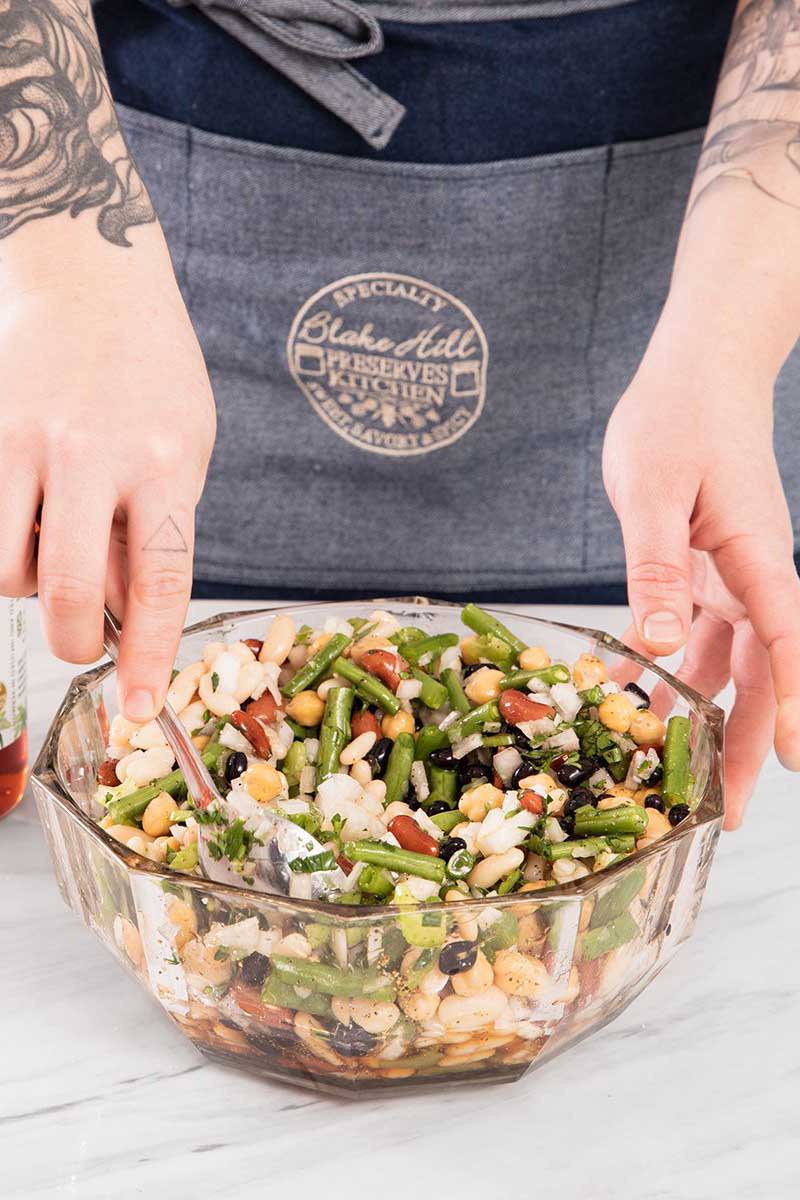 SPICY JALAPEÑO THREE BEAN SALAD
Inspired by a classic potluck dish that graces every picnic table during Vermont Summers. We took this vintage style salad and added a modern flare. Blake Hill Botanical Shrub is crafted with all ingredients for the dressing, saving tons of time and helping you avoid the stove on a humid day!
Serving Size: 6
1 cup dried cannellini beans
1 cup dried kidney beans
1 cup dried garbanzo beans
1 cup dried black beans
2 cups green beans, chopped into 1-inch pieces
1/2 Vidalia onion, finely chopped (about 3/4 cup)
2 celery stalks, finely chopped (about 1 cup)
1 cup fresh, loosely packed flat-leaf parsley, finely chopped
Salt and pepper
½ cup apple cider vinegar (optional)
Blake Hill's Spicy Jalapeño Shrub
Rehydrate dried beans - reference their packaging for instructions specific to the variety (you may use a pressure cooker for 1.5 hours to rehydrate beans)
Finely chop celery
Finely chop onion (optional: soak in water to take the edge off the onion)
Chop green beans into 1-inch pieces (optional: blanch in hot water for less crunch)
Strain water from beans once fully hydrated and from onion and green beans, if soaking
Combine beans, onion, and celery in a large bowl
Add Spicy Jalapeño Shrub to fully coat the salad and toss
For less heat, add apple cider vinegar to taste
Refrigerate salad overnight for best results
Finely chop flat-leaf parsley and toss with salad when ready to serve and Enjoy!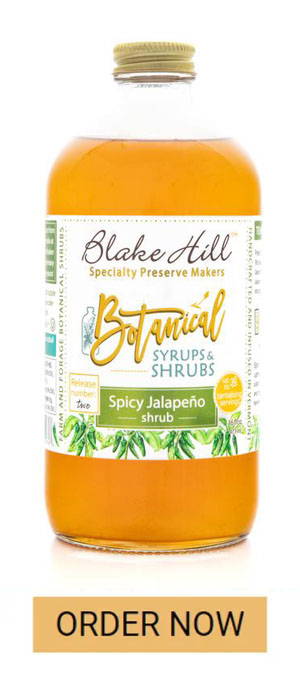 THE SHRUBS: SPICY JALAPENO
Featuring fresh organic jalapeno chilis from Honey Field Farm, we perform two hot infusions, and then a long cold infusion, with apple cider vinegar to capture the uniquely fresh jalapeno chili heat and flavor. Finishing with cane sugar for a little natural sweetness and our own unique spice blend, this is a super complex Shrub perfect for a spicy Margarita cocktail, and a phenomenal glaze for fish or chicken.
Organic jalapeno infused apple cider vinegar (local organic jalapenos, apple cider vinegar), cane sugar, pure lemon juice, spices
Recipe courtesy of Blake Hill Preserves