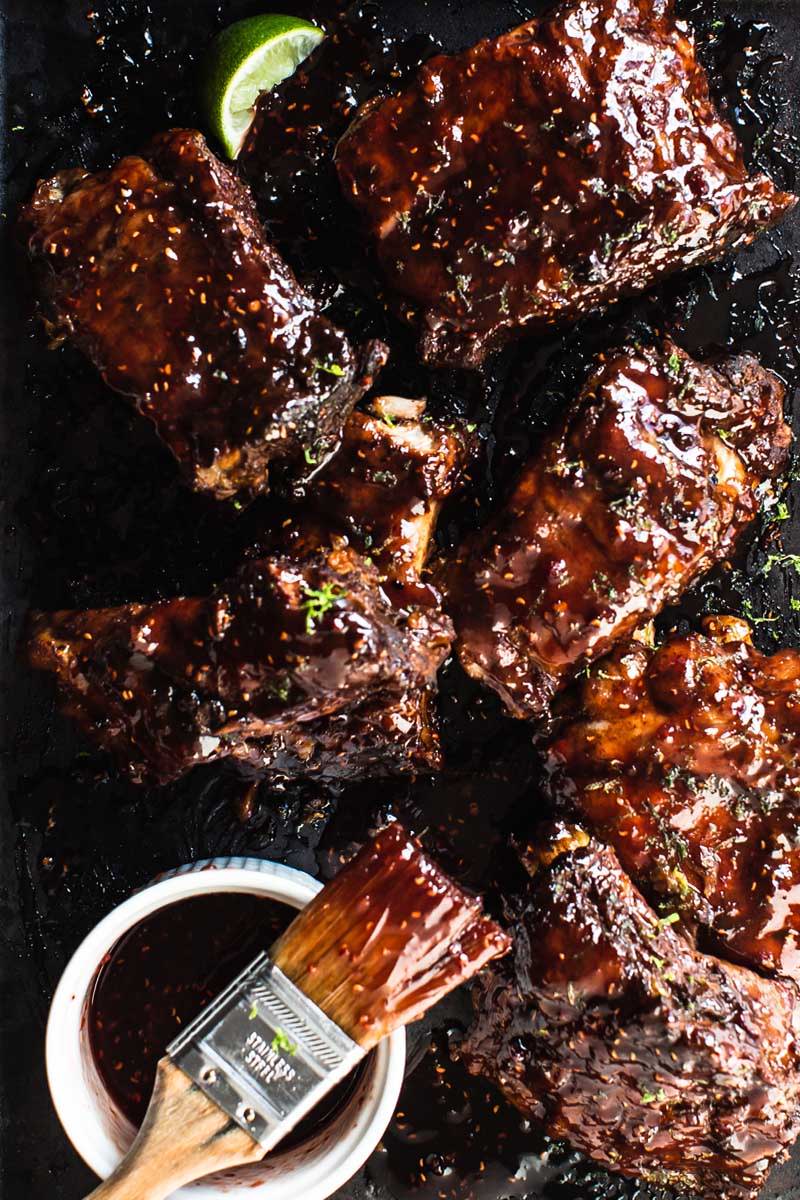 RASPBERRY PEACH CHIPOTLE BABY BACK RIBS
This recipe is for those using an Insta pot or other type of pressure cooker. It can be adapted for a slow cooker or adapted for the grill.
4 to 5 pounds baby back ribs
2 jars Terrapin Ridge Farms Raspberry Peach Chipotle sauce
Equal parts salt, pepper and garlic powder, smokey paprika to taste.
1/2 cup fresh orange juice
zest of one lime with extra for serving.
1 tablespoon lime juice
Rub the ribs with a blend of salt, pepper and garlic powder and paprika. Cut the ribs into chunks of two or three ribs, depending on their size. put pieces into a bowl and pour one jar of Terrapin Ridge Farms Raspberry Peach Chipotle sauce over the ribs. Coat ribs evenly.
Arrange the ribs standing up along the outer edge of the pressure cooker, making a ring with the meat side of the ribs facing out. Continue with the remaining ribs arranging them in concentric circles. Scrape all sauce from the bowl onto the ribs. Add 1/2 cup orange juice to the ribs.

Cover and cook on high pressure for 32 minutes. Allow the pressure to release naturally.

In a small bowl combine, the other jar of Terrapin Ridge Farms Raspberry Peach Chipotle sauce, orange juice, lime zest and lime juice and set aside.

Heat the broiler.

Transfer the ribs, meat side down, to a rimmed baking sheet. Brush the ribs with the sauce

that was set aside.

Broil the ribs until they are scorched in spots, 1-3 minutes. Then flip them over, brush with more sauce, and broil on that side until chard. Serve immediately with more sauce on the side.

This recipe can be made in a slow cooker, cook 4-5 hours on hi or 5-6 hours on low. Or, adapt this recipe to cook low and slow in the oven then finish on the grill instead of the broiler.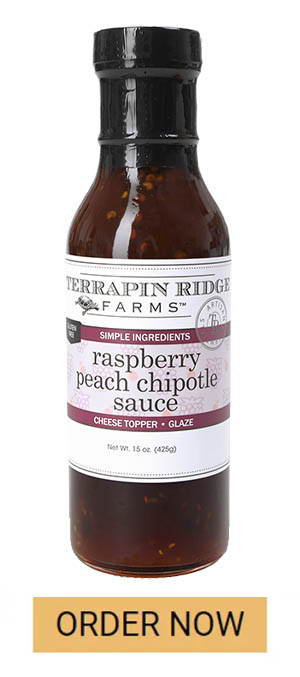 Raspberry Peach Chipotle Sauce
Juicy peaches, tangy raspberries, pure cane sugar & smoky chipotle peppers create a tasty flavor fusion. This sauce is a natural as a barbecue sauce or a glaze for pork & poultry. Mix with cream cheese for a delicious spread for crackers & bagels.
Gluten free, Dairy Free.
Simple Ingredients * Intense Flavors
Recipe courtesy of Terrapin Ridge Farms