Amber Ale Pineapple Jam
SKU:

619360091506

UPC:

619360091506

MPN:

Gift wrapping:

Options available
Frequently bought together:
Description
Amber ale combined with fruity pineapple and the right amount of heat from spicy jalapenos creates a rich, full-bodied and flavorful jam. This beer jam makes a delicious glaze for pork, poultry, and fish. Fold into mashed sweet potatoes and serve with grilled salmon for a real treat. Yummy on a grilled chicken sandwich.
10 oz jar

Ingredients: Sugar, Crushed Pineapple (Pineapple, Pineapple Juice), Water, Cider Vinegar, Amber IPA (Water, Barely, Hops, Yeast), Jalapeno Peppers (Jalapeno Peppers, Vinegar, Salt, Calcium Chloride), Pectin, Citric Acid, Natural Flavor.
Try This Delicious Recipe: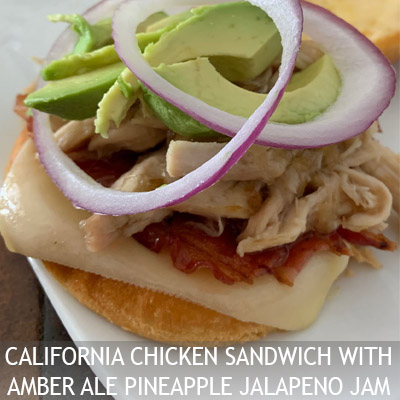 View All
Close